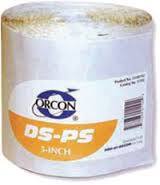 Double Sided Pressure Sensitive Tape 5"W x 60'L
Double Sided Tape Description
Pressure sensitive double sided flooring tape can be used to install rubber flooring or synthetic turf on a temporary basis for future removal. 
Tape is 5" wide x 60' Long per Roll
Recommended Installation:
We recommend you use at least 2 strips per 4' wide roll of rubber and at least 5 strips per 12' wide roll of sports turf.
Caution: Rolled rubber is sensitive to moisture in the substrate and using carpet tape does not protect you from moisture within the floor/substrate that can cause wrinkles/buckling.  It is recommended you seal your concrete prior to installing rolled rubber flooring with double sided tape.