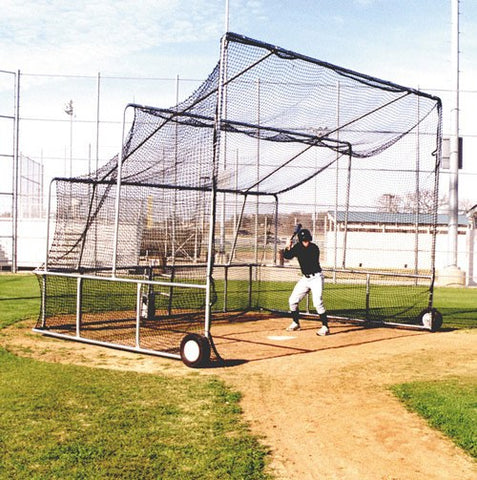 High School Batting Cage Turtle
High School Batting Cage Turtle
The high school turtle cage is the basic hitting cage for many high school programs.  It is the basic hitting turtle and predecessor of the Big Bubba.

Width: 18' wide will accommodate left or right handed batters without moving plate or hitting turtle cage.

The cage comes with 3 - large 16" diameter, 6" steel wheel, ball bearing, multi-directional pneumatic wheels. The back wheel futures a unique lever device for easy mobility; raising and lowering the hitting turtle cage with minimal effort.

The cage is constructed of 2" O.D. Flo-coated steel. Heavy duty (2.5mm) weather-resistant polypropylene cage netting.


Easy assembly and disassembly.
Product Size: 18'W x 12'D x 12.5'H
Shipping time to arrive is approx. 1.5 weeks.
Shipping weight 408 lbs.
---