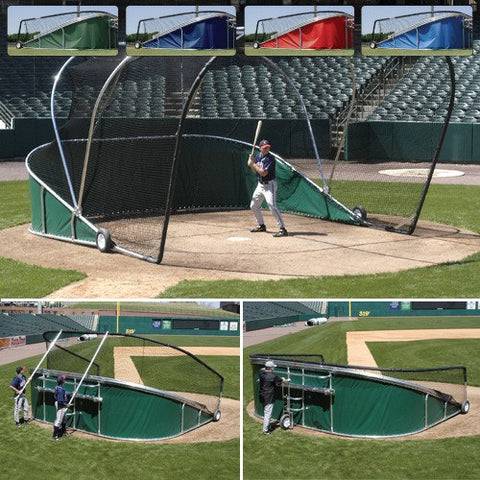 Big Bubba Pro Batting Cage Turtle
Big Bubba Batting Cage
Lead time is 2-3 days to ship
The Big Bubba style portable batting cage is the obvious choice for many high school and collegiate baseball programs.  The big bubba batting cage is used by minor league teams across the nation and well known and respected for it's durability, design and portability.

The big bubba batting cage kit includes batting cage, net, vinyl skirt, and 10' x 10' baffle net behind the batter.

The big bubba is construction of 2" heavy-wall aluminum tubing, heavy duty 3.5 mm weather-treated EHT netting and heavy nylon reinforced 18oz vinyl skirting.
The heavy vinyl skirt gives the perfect backdrop for baseballs throw and fowled into the back of the cage preventing the ball from escaping or bouncing back to far toward the batter.

The big bubba has heavy-duty construction, easy portability and a collapsible design to make it a great fit for any baseball or softball program.

The batting cage also includes 2 - 16" pneumatic side wheels & rear 16" pneumatic steering wheel for easy portability around the field.

The batting cage also comes with a 42" of ricochet cushion that reduces baseball rebound and reduces damage to frame.
Dimensions 18'W x 22'D x 12'H.
The unit collapses to 19' W X 13.5' D X 5.5' H when folded.
Shipping time to arrive is approx. 1.5 weeks.
Shipping weight 408 lbs.
---